Totalsource® Buyers Guide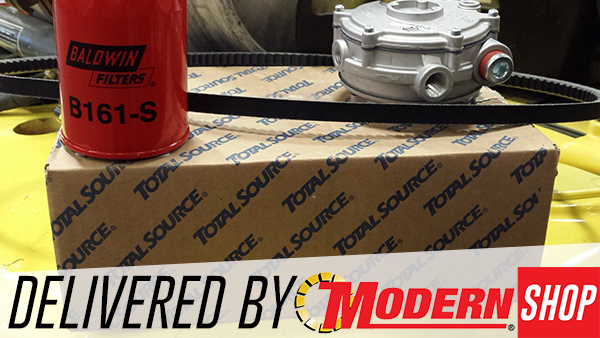 TotalSource® is the definitive supplier of aftermarket parts for forklifts, scissor lifts and other material handling equipment. Shipping out directly out of Kansas the part you need is just days away from your facility.
TotalSource® offers the widest range of brands - including original - and products to provide the right part for each environment you are working in.
Modern and TotalSource® can provide your company with replacement parts for the following manufacturers:
Aerial Work Platforms: Bil Jax, C-Tech, Calavar, Condor / Time Mfg, Ecolift, EPW, Fabtec/Hyster, Genie, Grove / Manlift, Haulotte, Hi Ranger, Hunter Lift, Lift-A-Loft, Manitou, Marklift, Mite-E-Lift, Reach All, Signalier Skywitch, Simon, Sky Climber, Sky Worher, Skyjack, Snorkel, Strato-Lift, Terex, Upright


Articulated Forklifts: Bendi


Articulated Wheel Loaders: Wacker


Construction & Agricultural Equipment: Ausa, Barko, Bobcat, Callenger, Carlisle Tire, Case, CAT Construction, Ditch Witch, Dyna Pac, Effer Cranes, Elliot Hi-Reach, ESCO, Fasse Cranes, Flight Systems, Ford, Gehl, Hiab, Hitachi, Hoist, Husky Brute, Hydro-Ax, Ingersoll-Rand, International Harvester, JCB, John Deere, Joy Manufacturing, Kato Excavators, Kobelco, Koehring, Kohler, Kubota, Landoll, Liebherr, Link Belt, Log Hog, Long Airdox, Lorain, Magnum, Massey Ferguson, Minnpar, Mustang, New Holland, Onan, P&H Cranes, Prentice, Reynolds Scraper, Takeuchi, Terramite, Timberjack, Vermeer, Volvo, Yutani


Forklifts: Atlet, Baker, Balkancar, Baoli, Barrett, Big Joe, BT, Caterpillar/Towmotor, Clark, Combi, Crown, Daewoo, Dalian, Dockstocker, Drexel, Elwell-Parker, Engine Bearings, Engine Parts, EP Forklift, Fahel, Feeler, Fenwick, FIAT, G Power, Halla, Hangcha, Heli, Hendley, Hul Lift, Hydroelectric Lift Truck, Hyster, Hytsu, Hyundai, Intrupa, Jungheinrich, Kalmar LMV, King, Komatsu, Lansing, Lansing Bagnall, Lift-King, Linde, Lpm, Maximal, Mitsubishi, Namco, Nissan, Nova, NYK, Prime Mover, Raymond, Samuk, Schreck, Shangli, Stam, Steinbock, Still, Tailift, Taylor, TCM, TFN, TotalSource, Toyota, Waldon, White Mobilift, World-Lift, Xinchai, Yale, Yang


Handling Equipment: Atlas, Bishamon, Blue Giant, Boman, China Pallet Truck, Eagleman, ECOA, Eurolifter, Gray Forklift Jack, Interthor, Jet, Lafis, Lift Rite, Lo-Jo, Lo-Lift, Marco Tiger, Mobile, Multiton, Pallet Mule, Palletmaster, Pramac, Premier Pallet Truck, Rol-Lift, Tally-Ho, Total Source Americas, Ultra Pallet Jacks & Sweepers, Value Jack, Wesco


Personnel & Burden Carriers: Club Car, Columbia, Cushman, E-Z-Go, Eimco, Intercoastal Mfg, Jacobson, Kalamazoo, Karrior, Kawasaki, Legend, Melex, Motrec PBC, Nivel, Noland, Nordskog, Nutting, Otis, Pargo, Taylor Dunn, Toro, Trackmobile, Tug, United Tractor, US Electricar, Yamaha


Port & Container Handling: Omega, Ottawa Yard Mule, Sisu, SMV, SVE


Scrubbers & Sweepers: Advance, Allianz, American Lincoln, Ametek Lamb Motors, Athey Street Sweeper, Beam, Betco, Blastrac, Breuer Tornado, Broce, Cabelform, Cardinal, Castex, Clarke Sweepers, Elgin Sweeper, ETC Henderson, Factory Cat, Flopac, FMC, Graco, Haviland, Hi-Gear, Hoover, Johnston, Kent, Lawlor, Lay-Mor, Liberty Brush, Malish, Masco, Minuteman Sweeper, Multi-Clean, National Super Service, Nobles, Pacific Floor Care, Pioneer Eclipse, Power Boss, Pullman Holt, Star-Hydrodyne, Sweeper, Taski, Tennant, Tennant Trend, Tymco, United Rotary, VAC/ALL, Vactor, Wayne, Windsor Industries, Wrangler


Telehandlers & Rough Terrain Forklifts: Deutz, Gradall, JLG, Lancer Boss, Lull, Mercury-Pettibone, Pettibone, Sellick, Sky Trak


Truck Mounted Forklifts: Moffett, Teledyne Princeton
The TotalSource® Advantage:
Buying Parts For Multiple Locations? We Can Ship Nationwide

Parts Available From 10 Distribution Centers Across The Country

Tremendous Purchasing Power Within The Industry To Delivery Outstanding Availability and Pricing
From air and fuel filters, belts, forks, brakes, covers, lights, chargers, cables, starters, tires, hydraulics, engine components and more. The Modern Shop has what you need and is dedicated to providing you with the right part, at the right price, with the best service.