About Modern
Modern: Customer Dedicated, Employee Owned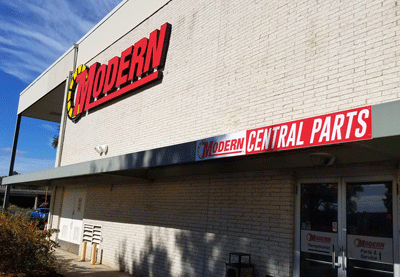 The Modern Shop, a division of The Modern Group, is run by a team of dedicated parts professionals in Bristol, PA. If you ever have the chance to drive along the Pennsylvania Turnpike outside of Philadelphia keep an eye out for our headquarters!
What now includes 7 branches throughout the Mid-Atlantic states traces its beginnings to 1946 when the Modern Handling Equipment Company was formed. The company grew steadily, acquiring dealerships and offering equipment rentals throughout New Jersey and Pennsylvania. A holding company, Modern Group Ltd., was established in 1979 for all the dealerships and rental companies that this initial venture spawned.
Several new product lines were added, including warehouse products, standby power generators, rough terrain forklifts, telehandlers, backhoe loaders, skid steers, excavators, track loaders, wheel loaders, carry deck cranes, snow plows and pushers, and ice control equipment. In 1984 Modern employees purchased shares in the business after it was converted into an ESOP Trust.
Today we are a recognized leader in the material handling, construction and industrial power industry. With hundreds of technicians across our territory keeping thousands of customers up and running. Now, with The Modern Shop, we can look to an entire nation we can help through the best online parts experience on the planet!
Modern's employees think and act like owners…because we are!
---
The Modern Shop has all of the replacement parts, manuals, and lubricants you need for your construction equipment, forklifts, material handling and warehousing equipment.
From forklift and industrial tires, to pallet racking, Magliner hand trucks, and casters, wood chipper blades and bolts, to skid steer filters and everything in between. We know you have tons of choices out their for parts vendors, but we want you to know when you choose Modern you are dealing with a group that will run through walls to deliver the solution to your need. We care that much more because we own the company, and we want it to deliver for you!